WE PROVIDE OUR CUSTOMERS WITH RELEVANT SITE-SPECIFIC
​INFORMATION FOR PLANNING UPCOMING CLIMBS.

The following is included in every Pre-Climb report:​
​​​RISK FOR CORROSION* SPECIFICALLY, THAT OF BURIED STEEL ANCHORS IN DIRECT CONTACT WITH SOIL
SOURCES OF CORROSION INCLUDING, THOUGH NOT LIMITED TO CATHODICALLY PROTECTED PIPELINES, WELDING FACILITIES, ELECTRICAL POWER STATIONS/SUB-STATIONS, PLATING FACILITIES, OVERHEAD POWER LINES, AM-TOWERS, AGRICULTURAL ACTIVITY, AREAS PRONE TO STANDING WATER ARE
AERIAL IMAGERY OF THE SITE AND SURROUNDING LANDSCAPE
​DRIVING DIRECTIONS TO SITE ENTRY GATE
NAME/ADDRESS/DRIVING DIRECTIONS TO NEAREST EMERGENCY OR TRAUMA FACILITY
FAA DATA, INCLUDING AIRSPACE DESIGNATION AND NEAREST ATC AND NOTAM/TFR, WHERE APPLICABLE
Due-Diligence!

*Securing a Pre-Climb is in keeping with NATE'S Anchor Corrosion / Safe to Climb Guide,
​ for inspections where DTB is not provided or requested.

View the latest revision of the Anchor Inspection/Safe to Climb guide, provided by NATE, below -
one of
many
Climber Safety resources available from
NATEHOME.COM
.
---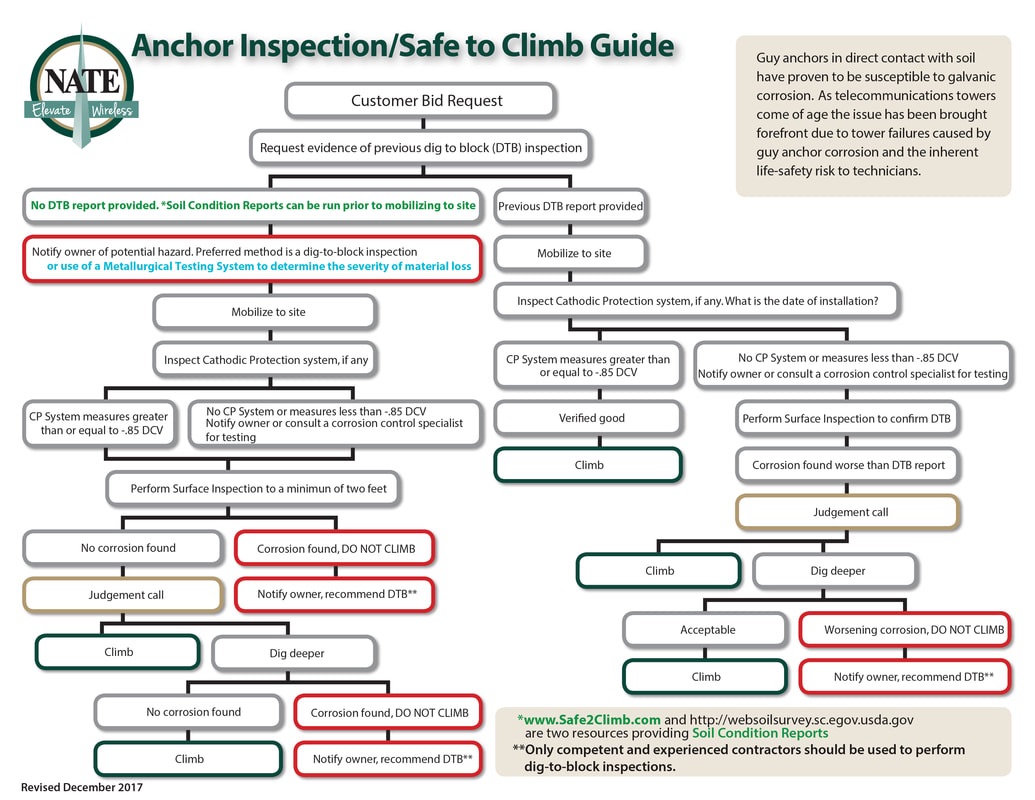 ---
DIG TO BLOCK ISNT' ALWAYS AN OPTION
SOIL IS NOT THE ONLY CORROSION CONCERN

​​​​​​​​​​PHYSICAL & CHEMICAL SOIL PROPERTIES
Soil chemistry plays a major role in the corrosion of buried steel - the starting point for investigation.

​HYDRIC CONDITIONS
​Soil permeability and propensity to retain water has a direct influence on the corrosion process.

​ELECTRICAL CONDUCTIVITY, STRAY & TRANSIENT CURRENT
Sources that add energy to a corrosion cell.

HUMAN INFLUENCE
Site conditions, including soil chemistry, may be altered, creating ​a more corrosive environment.
---